A laptop means computing freedom, right? Or so say all those airport billboards and bank brochure stock photos. You know, the ones showing some shiny-toothed lady paying bills at the beach.
We all know it doesn't really work like that. Laptops are great because you can park anywhere to use them — provided you've got power and a signal. But what about all those times when you're on the go? Why can't you use them while you're going?
There's the irony behind the whole hackneyed concept of the "road warrior." At your most mobile, your laptop — as light and docile as it may be — is still just a hunk of luggage. You've got to pack it up every time you move, then unpack it and set it up again when you want to use it. If you're really using it "on the road," we don't want to hear about it — at a minimum, we won't be driving near you.
But what if we said to you that there was a way you could use your laptop in transit? And that a man purse could help you do it?
You'd probably say, "Yeah, but it'd probably make me look like a dork."
And we'd smile, and say, "Well, continue reading below, and we'll see what we can do."
Then we'd show you a "walk-about computer desk" called the LapWalker. And we'd show you this picture of a satisfied and doubly man-pursed customer, typing while he walks, apparently headed for a big pile of rocks.
The LapWalker hangs in front of you, providing a stable surface for a notebook computer. The laptop attaches to the work surface with Velcro. The desk surface stabilizes itself against your waist.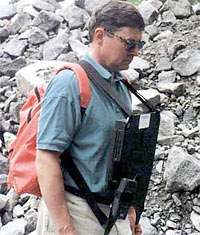 a2z Mobile Office Solutions, the company that sells the LapWalker, says their straps help distribute the weight evenly on your body. When you're not typing, the case folds up flat against your stomach.
So how do we know the LapWalker is a man purse, and not just a purse purse? Well, consider this evidence: A comment from Paula Offutt, who in her review of laptop stands considers the portable computer desk briefly for her own use but then dismisses it. "I don't know if I could use it," she writes, "due to my big belly and boobs."