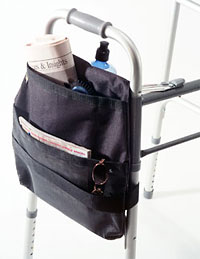 Just because you have stability or mobility issues doesn't mean you can't carry a man purse! Our stand-out pick for walker wielders who want a pouch for personal items but might have trouble with a torso-wrapping strap is the Side Mount Walker Carryon, from Homecare Products, Inc.
The bag is lightweight (at least until you fill it up) and attaches to the side of any walker or rollator with the help of two straps. It has three deep pockets plus a water-bottle holder accessible from the back. Like the Model T, this nylon bag is available in any color — as long as it's black.
Unlike the more common front-mounted walker pouches, this side-mount model lets you keep items within easy reach, and won't make you look like a mobile magazine rack or an elderly salesman out to peddle hanging toiletry bags.
Plus, if your two-wheel and two-tennis-ball walker has a nasty habit of veering to one side, you can hang the Side Mount Walker Carryon on the opposite arm so that it balances out. And that's yet another example of how toting a man purse can help keep you on the straight and narrow.