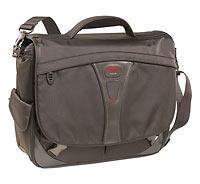 Tumi says today's featured bag has "the styling of a messenger with the organization of a computer brief."
We've noted a hybrid bag from Tumi before. We're not exactly sure the T-Tech Pulse Eldridge Computer Messenger Bag breaks any new ground — who hasn't stuffed a notebook computer in a messenger bag, with or without a sleeve? But it does seem an attractive way to carry a laptop.
The Eldridge comes in a lightweight nylon and has a nice array of details, including a retractable key leash just under the front flap, a dedicated laptop-sized pocket, and a side pocket that seems appropriate for a cell phone or phone-and-organizer hybrid.
Our favorite part of the bag, though, is a panel on the back that has sets of zippers at the top and bottom. Unzip a space in the center of each and you can thread the extended handle of a wheeled bag through the panel. If you get the balance right, that's a pretty secure way to mount a computer bag onto a carry-on.
Is that a feature borrowed from messenger bags or from computer briefcases? Does it matter? We'll take it.