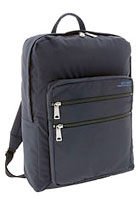 So what, exactly, is that quality that transforms an ordinary backpack into a Daddy Backpack?
In the case of the Jack Spade Dad Backpack, it's . . . a changing pad.
A shocking concept, really: a men's diaper bag designed for non-extreme conditions. No military imagery. No one will suspect you're packing anti-poop weapons inside (maybe just a book on parenting?).
The ad copy at Nordstrom plays up the "not just for dads" angle:
Ample pocket space and padded changing mat make outings easy, and when it's no longer needed as a baby bag the interior changing pad pocket fits a laptop computer.
That sounds like a fair trade to us. But an entry at the Purse Blog froths offensively:
For some reason men just do not want to ever say that they are carrying a 'man bag'. What is the issue? Why not?! I am not asking you to carry a pink bag, but some bags are just so darn good looking on a man. Jack Spade has decided that man bags are a must, so all you ladies need to convince the men in your lives to nab a man bag. The Jack Spade Dad Backpack in Chocolate is a simple enough bag for any man to like. Made from brown triple-layered, weatherproof nylon, this bag is equipped for any daddy playing mommy for the day.
Oooh, "playing mommy"! Great sales copy! We're sure that's going to get lots of guys in line to plunk down $225 for this bag, quick.
Kinda makes the "military" options seem a little more appealing, no?