Here's a quick quiz. When it's time to pack up your laptop for a short trip — say, to go home from a cafe, or to take it to work, are you more likely to:
A. Shut down the machine, carefully unplug the power supply and any attached peripherals, then fold and tie all cords, inserting each item separately into its proper case
or
B. Slam the lid shut, unplug cords only where they are attached to something other than your laptop, and pile them with the mouse and any extra peripherals on top of the machine as if it were a tray — then shove the whole shebang swiftly into a large open compartment in your bag?
Each approach, of course, has its advantages. Option A probably will keep your cords pristine longer, while Option B will always be faster. On the other hand, neither is ideal: All that plugging and unplugging in Option A might eventually wear down a laptop connector or two, while a few months of Option B will likely strain your cords and turn them into a tangled mess.
Laptops that are two years old or newer, we figure, are more likely to receive the Option A treatment. But we have a certain fondness for Option B, which we've decided to call the "commando option." As in:
Honey, we need to leave in five minutes. Why don't you shut down your laptop now and start packing up all the cords?

Screw that. I'm gonna keep working until we're ready to leave. I'll just go commando!
One advantage of the commando option is that it allows your choice of man purse to be a far less fussy affair. You won't need compartments matched exactly to your wares — just a bag with a big enough mouth, and maybe enough padding to make you feel comfortable.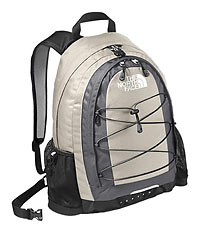 Today's commando option recommendation, then, is a simple backpack with a gaping maw: The North Face Jester Day Pack. Yes, it has an organizer built into its back panel (well, actually the front panel, but we have trouble labeling either side of a backpack as the front), behind laced bungee cords that merely hint at the intricate web of cords you might have shoved inside. There's also a removable hip belt and a carrying handle, plus two mesh side pockets for water bottles. The Jester comes in ten different color combinations, and it's listed for $49 on the North Face website, though it's available at a discount at various on- and offline retailers.
The Jester's best feature for our purposes is the big open space inside: 1850 cubic inches (that's 30 liters) of unstructured space for your tangled mass of hastily untethered tech gear. Plenty of room for a knotted web of mouse cords, headphones, and poorly packaged CDs, too. Just shove and go.