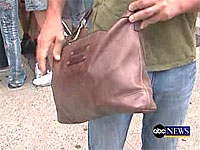 ABC's Nightline news program scooped the fashion world last night by airing a short segment that reveals a shocking fact: Certain men, it seems, have been carrying bags that look "suspiciously like purses."
Correspondent John Berman demonstrates the resourcefulness of a crack reporter by stepping a few paces outside ABC's New York studios to interview some New Yorkish but actual handbag-carrying men. He asks them penetrating questions, such as "What do you carry in your man purse?" and "What kind of comments do you hear?"
But wait! There's more to the story: Andy Roddick doesn't like man purses! Ah, but Roddick hasn't won a tournament this year, Berman notes. So, uh . . . touché! But Chewbacca wears one! "And who would question his masculinity?", Berman quips.
Our favorite cameo in the report comes from an unidentified but suspiciously normal looking shoulder-bag-carrying man who shakes the reporter's hand and says to him "Don't make me look foolish" before walking away.
If you missed last night's program, you can view it on the Nightline website, or read the printed version more discreetly if you're at work. But if discretion isn't really your bag (and we realize that for many purse toters it isn't achievable), Nightline is soliciting "video" responses to its report. That's right: You can film yourself holding a man purse and send the footage to ABC! We bet the more foolish you look, the better the chance your video will be featured. Or take the opposite tack: make grunting sounds, insult bag carriers as pansies, then insist that your camera bag isn't a man purse.
What's that sound we hear? Sharks, jumping?
(Thanks again are due man-bag news scout Craig Keirstead for alerting us to this important moment.)