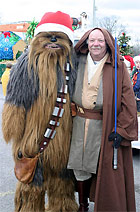 We thought we had covered the Chewbacca man-purse controversy rather thoroughly earlier, but we apparently failed to include any chewy insights from a true expert on the subject. That expert would be Glenn Mendler, who refers to himself as the Joseph Campbell chair of Mythology at Lucas College and the author of Chewbacca's Purse: Androgyny and Sexual Dissonance in Star Wars Episode IV: A New Hope. (We know what book is going on our wish list!)
And though we had not heard of Mr. Mendler until yesterday, he is a pop-culture-interpreting force to be reckoned with in an appearance on Gretchen Helfrich's Chicago Public Radio program Odyssey. Mr Mendler (not pictured above) and two other guests discuss "The Risks of Reinterpreting Art," in a manner that only public radio could carry off. Plus, they take calls from listeners:
I'm a stay-at-home mom, and . . . my concern really is: what do I say to my kids when they come home from seeing the Star Wars movie and their friends are all giggling about this purse that this Chewbacca is carrying around? The older ones may be able to understand it a little better, but the younger . . . like my youngest right now is already carrying around one of my purses. He calls it a backpack, of course, but . . . you know, it used to be so clear. Things used to be so clear . . .
Ah, yes. They did, didn't they? Caller, that's why The Satchel Pages are here.
We won't spoil Mr. Mendler's cogent yet sagacious response. Listen for yourself. Oh, and captivated listeners will want to take note of the show's original production date.