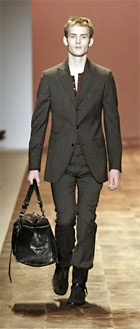 Do not fret, Michael Remis. Designers all around the world are working hard for you and your cargo pants: Paving the way for man-purse safety in high school, but also in the workplace and on the runways.
Behold but two snippets from the fall collections of John Varvatos (left) and John Bartlett (right), two designers on the forefront of the man-bag movement. (Thanks to Omiru for the tip.) Varvatos's collection is a veritable man-purse party, featuring shoulder bags, satchels, and duffels in almost every shade of black. This seems a significant upgrade from his spring collection. Maybe everything lightens up for warmer weather.
Is this what it will take? Male models showing no fear as they strut down the runway, proudly toting purses before blazing cameras? From the hard work of these trailblazers, will teenagers in Winnipeg finally be able to carry their iPods, cell phones, and portable Yahtzee players in peace?
Maybe, but it may not mean much. Acceptance of their accessory choices among male fashion models has never been the main problem for the man-purse crowd. Michael Remis is only praying for a quick trend to carry him and his gadgets through high school. What if he gets his wish? A few years from now, will the same fashion winds that blew these folks down the runway carry man bags off to oblivion as well?