Yes, this is a diaper bag for men. Designed to combat post-fatherhood emasculation fears, it's constructed of camouflage nylon and — if that's not enough to ward off evil feminizing spirits — embroidered with a dragon emblem. Grrraaarrrrr!
Two-year-old Diaper Dude is leading a direct assault on the conventional image of diaper bags, and by our reckoning, the California company's Camouflage Dragon Bag is the most fearsome weapon in its arsenal. To see what Diaper Dude is up against, one only need visit this anomalous page of "diaper bags for men" at the Tutti Bella ("Everything Beautiful for Baby") website: There, amid rows of cool, rough-looking Diaper Dude shoulder bags is a Curious George diaper bag in bright green, by Timi & Leslie.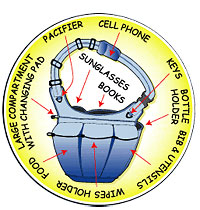 Send in the cavalry! And while you're at it, outfit them with shoulder bags that feature a pocket for everything: wipes, cell phone, pacifier, bib.