Reader Craig Keirstead writes to clue us into a simmering international controversy that's been roiling the sports and fashion worlds in the last month — since tennis star Andy Roddick used his blog to issue some unprovoked criticism of man bags and the men who wear them.
"I have seen some guys walking around with man purses here in London," Roddick writes in a pre-Wimbledon entry dated June 9th:
…. anything bigger than a money clip or a wallet is to be left to your girlfriend / wife…and just so we are clear you should not be able to throw your "wallet" over a shoulder…if you have a man purse, the wall is waiting.
Roddick's "wall" reference is a bit obscure: it's not an invitation to man-purse wearers to throw their handbags over a wall, but rather a suggestion that they be forced to "self chuck" themselves into one.
If this isn't clear, we've found an AP photo at Yahoo! News that shows Roddick demonstrating the results of his own self-chucking technique . . . against a net.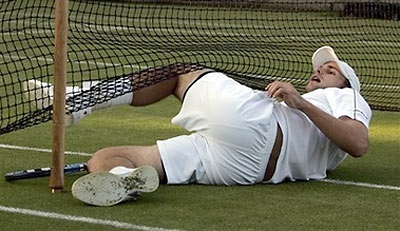 Well, what of it? Roddick's comments have provoked a series of articles in the British and American press, many of which have used his words as a starting point to . . . issue fashion advice for men who want to carry handbags:
Daily Telegraph fashion editor Hilary Alexander concurs.

"As long as it's not small and pink, and dangling from your wrist, it's perfectly OK," she said. "Rugged, chunky leather man bags are sensible, as putting too much into your pockets spoils the cut of your trousers."

She predicts that next season we may well see more businessmen in Times Square squeezing their laptops into a rich, dark-chocolate grained cowhide leather bag from Dunhill, or even a Mulberry multipurpose man bag.
We've come a long way: It wasn't too long ago when a male sports figure might make news by wearing a man purse. Today, it's international news when someone is outspoken enough to criticize them.
Read on for more photos of Roddick's Wimbledon technique, plus one photo he surely doesn't want you to see . . . (yes, he's packing!)
Clearly, this "self chuck" is a tennis move Roddick is well acquainted with. Here's Roddick after chucking himself against a wall named Andy Murray . . .
And here he his gracefully demonstrating how to recover from a chuck against Janko Tipsarevic earlier in the tournament: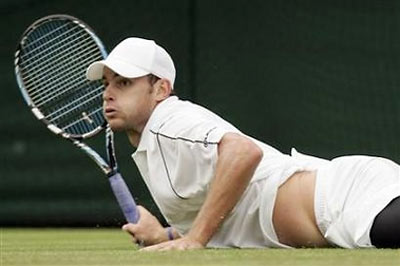 But what is that long white thing laying by Roddick's feet? It says "Lacoste" on the side. Could it be Roddick's own ball sack?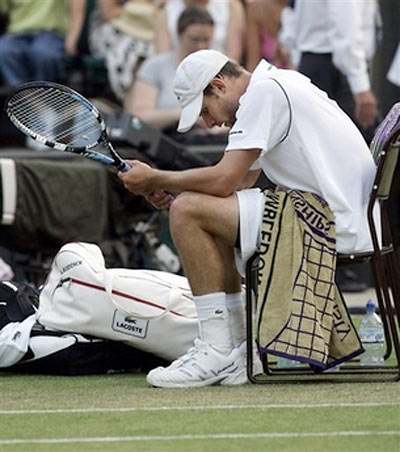 And . . . what's this? Here he is, in the photo you've been waiting for. Yes, that's Andy Roddick, sporting not one, but two bags, each of which is clearly bigger than a money clip!
Brazenly, in broad daylight. Oh, the hypocrisy!
Photos: AP Photo/Kirsty Wigglesworth, AP Photo/Anja Niedringhaus, Kevin Lamarque/Reuters, AP Photo/Anja Niedringhaus, Luke MacGregor/Reuters