To tote, or not to tote?
On the one hand . . . there's the convenience factor. If you're packing a man bag, you can unburden your pockets, have your hands free, and even take more junk with you than you need.
But on the other hand . . . people would see you. And you'd be carrying a man purse.
Quite a dilemma, isn't it? But if it's a tough decision for you, realize that you don't have to be forced into a choice. The obvious way out is to carry a man purse — but one that nobody knows you're carrying.
That's it . . . a hidden man purse!
The oh-so-discreet team here at the Satchel Pages has decided to devote the entire week to bagwear fashions of this secret genre. And so we begin Hidden Man Purse Week.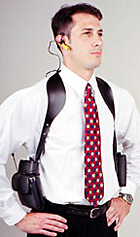 Today, we explore hidden man purses from a company called Personal Electronics Concealment, LLC. Their e-Holster Leather Shoulder Harness Case System is the perfect solution for those of you who want to hide your man bags under a manly sportcoat.
Remove the coat and you've got . . . well, a holster for several different kinds of electronic equipment. The company sells custom cases — which they call e-Pouch cases — for digital cameras, CD players, cellphones, and PDAs. Each is made of leather, ballistic nylon, or "fashionable" vinyl and comes with an attached elastic loop for . . . a pen. [Insert pocket-protector joke here.] The e-Pouches attach to the e-Holster and ensure that your personal electronic devices remain personal.
The obvious question, of course, is what happens if you remove your manly sportcoat in a bank? From the company's FAQ:
Is it possible that someone might mistake my e-Holster system for a weapons carrying system?

Anything is possible. And it is conceivably possible that a police or security person might think that your e-Holster system was for carrying a weapon. For that reason, common sense might dictate that you not wear the system in areas where high security might be a concern. With the e-Holster system worn openly, only someone extremely concerned about the presence of a weapon (and, who is totally unfamiliar with the e-Holster system) might mistake your e-Holster for a weapons carrying system. It is when the e-Holster system is worn under a covering garment and an item of personal electronic equipment [is] reached for suddenly or quickly that such a mistake might conceivably be made. [Emphasis added.]
Which means our post today does double duty: For those of you who might be interested in secreting a man purse about your person, we are introducing you to a viable (though rather geeky) option. For the rest of you, we are providing fair warning that the man standing next to you with unorthodox bulges in his jacket may only be packing a Blackberry.

Personal Electronics Concealment and the e-Holster are the brainchild of this man, Tom Traeger, who is now the company's CEO. Can you make out the man purse he's wearing under that vest?
We didn't think so.