A wallet on a cable may be a good way to ensure your cash stash doesn't go wandering off in the sticky fingers of some urban villain, but what about that bag you carry around? What's a good way to keep it safe from snatchers?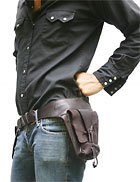 May we suggest replacing it with the Double Sahara Hip Bag, from Rubyzaar? Cowboy tough, it comes in three trail-savvy colors: "whiskey," chocolate, and black. No, we didn't spot one of these in a recent Academy Award–winning film. But we think it's the perfect solution for the security conscious man-bag wearer. Why?
Put simply, we doubt anyone would ever steal it. And anyone wanting to do so would need to unbuckle it and thread it free of your belt loops. Plus, any prospective thief would have to stop and think: Do I really want to mess with someone who's not afraid to wear a cowboy-style fanny pack? We don't think so.
Saddlebag snatchers, keep away from these chaps!