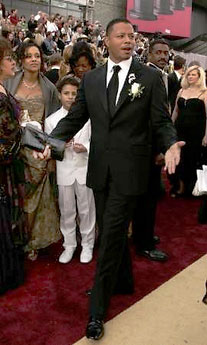 A scene from the Oscars, earlier this month: Terrence Howard, nominated for best actor for his role as a singing pimp in
Hustle & Flow,
uses his red-carpet moments at the Academy Awards to show off his taste in man bags.
An alligator clutch in one hand; the other ready, it appears, to receive the Oscar for Best Actor.
Alas, it was not to be.
See below for more man-purse pics from Terrence Howard's Oscar adventure.
Howard shows off his clutch-carrying style . . .
with his son Hunter . . .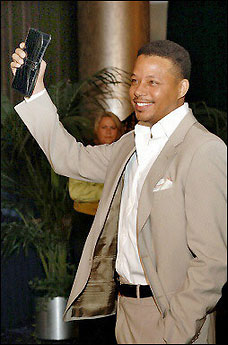 . . . and a few weeks earlier at an Oscar nominees' event in Beverly Hills. Different outfit, but same bag.
Men with purses, raise your hands!
Photos: REUTERS/Brian Snyder, AP Photo/Kevork Djansezian, REUTERS/Mario Anzuoni, AFP/Susan Howard
4 Responses to "Hustle & Flow, clutch & go"
Leave a Reply