Sick and tired of friends and co-workers who always seem to get a large charge when they see you lugging around your man purse?
Well, here's a bag that carries a charge you can put to use — juicing your laptop while it's packed inside.
Every company wants its own line of manbags, it seems. Maybe it's inevitable that when a manufacturer known mostly for battery backups and uninterruptible power supplies gets into the act the results will be . . . electric.
No, there's no cord dangling out the back end of any of APC's new Power-Ready Notebook Cases. You're expected, it seems, to unzip before plugging in. But have a gander at the compartments inside: insert APC's Universal Power Adapter into one of the pockets, then plug it into your laptop through a hole in the divider. Separate USB cords powered from the same device can feed your PDA, MP3 player, or phone at the same time. Now just park your bag by an outlet and juice up.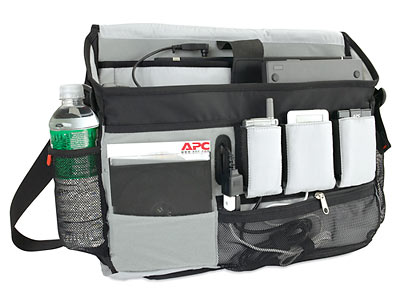 The APC Power Ready cases come in saddlebag, roller bag, backpack, and messenger bag models — all in 1682 denier nylon and tarpaulin. The Universal Power Adapter — the key to power — is $99.99 extra. We like the Business Casual Messenger Bag ($39.99, shown above) and the Business Casual Saddle Bag ($59.99) especially.
But tell us: How would you react if you saw a large tech-y bag on rollers left alone at an airport, plugged casually into a spare outlet? Would the man sitting nearby seem a little frightening? We travel a fair amount, but must admit such a scene might give us pause.
But let's remember: Fear is often an important component of power. And really, what's more shocking about that man with the electric manbag: his purse or his plug?
[Thanks to PC Magazine for the tip!]