How's that heavy laptop bag treating you? Does it ever make you feel like you're lugging a bag full of golf clubs over your shoulder?
If that's the case, you and your aching neck may be interested in the latest innovation in man-purse technology: The OGIO Shling.
OGIO, a company that makes bags for a wide variety of sports, including skating and snowboarding — but appears to spend a lot of time on the golf course — is introducing the Shling on two lines of golf bags, which should at last be available in sporting-goods stores and golf shops this month. Here at the Satchel Pages, though, we're much more interested in the company's Boss Messenger Bag, which will be available in a Shling version by this year's holiday season. Other custom bags designed expressly for the Shling will be available early in 2007.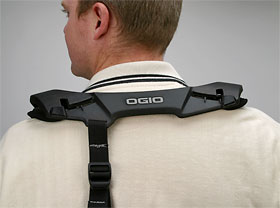 The Shling is a molded carrying device — laden with several new patents — that allows the weight of a heavy bag to be distributed evenly on two shoulders.
Gee, sounds like a backpack, we can hear you say. Ah, yes, but the Shling is a yoke with a handle, designed to be shlung onto both shoulders shimply, in one shweeping motion.
Sure, you say. Sho what? Well, the OGIO folks claim the Shling directs the weight of your bag more appropriately onto your shkeletal shtructure, so it feels lighter. And the Shling has sushpended shtraps, which cushion against shocks.
Show me, you say. So we point you to the video on the OGIO website, which provides a lengthy but thorough introduction to the product . . . for golfers.
If you wield a Fujitsu more often than a five iron, we'll point you to an early review of a Shling messenger bag at Gearlog. The reviewers, PC Magazine editors Laarni Almendrala Ragaza and Sean Carroll, clearly were excited by the concept but weren't too happy when the yoke was on them. Sample comments:
The strap is designed to distribute the bag's weight evenly and let you stand upright easily. But I found myself tilting forward anyway. And it wasn't comfortable on my shoulders, though I tried adjusting the strap to fit my 5′1″ frame. I felt like a yoked ox.
and
I was painfully conscious of how ridiculous I looked in this harness. I felt the same sort of fashion shame I imagine you'd suffer if you had to wear a posture brace in high school. [emphasis added]
These folks don't sound so fashion forward to us, but their words are all we have to go on for now. In the meantime, those of you heartened by the prospect of technological advances lessening your laptop load may be relieved somewhat to hear this response sent to us by an OGIO publicist:
We want to ensure your readers know that the OGIO Shling is not designed for every body type. This first model is designed to accommodate the average man's build. As . . . the review in Gearlog pointed out, they tested the Shling on what appears to be two extreme body types — a much larger man and a very petite woman. We intend to release models in the future that accommodate a wider range of body types, and of course will use any feedback — positive or negative — to make the Shling the ultimate carrying solution regardless of body type.
Overweight or underfed laptop luggers, do not despair. Advances in man-purse technology will be coming to the rescue. Shling!!!