Man Purse Accessory Week continues . . .
Yes, it's a $50 lunch box. However, I really like the portion control. I also really like that stuff doesn't get squished when I'm on the bus. And I really, really, really like that it fits in the water bottle holster on my Man Bag. And it will keep the hot side hot, and the cool side cool. How do it know? (That's for you, mom!) The rice container's lid forms an insulation layer between the top and bottom part of the thermos. It's state-of-the-art Japanese lunch containment technology.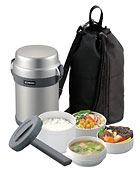 What is it? It's a Mr. Bento lunch jar from Zojirushi: A stainless-steel-lined insulating container for four microwaveable bowls, fitted into a tall pouch. A bento box, but modern and rounded — ideal for a working man's daybag. It's the perfect accessory, as Lee Gibson notes above, for famished man purses (and men) of a certain size.
Over at Mr. Bento Rodeo, software engineer Shawn Wall has begun a regular photo chronicle of his lunch creations for Mr. Bento. He is but one of several contributors to Flickr's Mr. Bento Porn photo pool.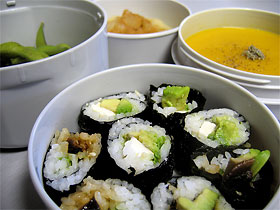 Feeling . . . hungry? Turn the lights down low, settle into a cozy chair, crank up the screen brightness, and sneak a peak at this peep show. Of course, bento experts will quickly realize that — compared to the food-porn stars of the larger bento world — Mr. Bento's fans are strictly amateurs.