Via a post at Daddy Types ("The Weblog for New Dads"), we learn of a diaper-bag alternative for men that continues the whole War on Baby Poop theme Diaper Dude advances so effectively.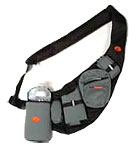 It's not a man purse. It's not a diaper bag. It's (military drum roll, please) . . . the Baby Bandolier! Kinda like that "sash with pouch" Chewbacca wears, except here you're battling chafing and rashes, not Death Stars. And the ammo you're stashing boldly across your chest is maybe a bit more pedestrian, too: water bottles, changing pad, and an "insulated bag" for, um . . . booty.
Our favorite model is the Baby Bandolier Extreme Conditions, which we recognize as a true advance in both man-bag design and marketing. Yes, you could use it as some sort of shoulder-laden organizer even if you don't have a battle-ready baby in tow. But the "Extreme Conditions" tag conjures up so much military excitement on its own. With this kind of gear, why would any adventure-ready guy want to miss out on Operation Diaper Storm?
Send in . . . the infantry!