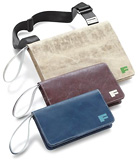 Freitag is German for Friday, which makes this as good a day as any to discuss Willy, Fritz, and Horst — three man purses from Freitag, that Swiss company that makes bags mostly from used truck tarps. Yes, they're "European," but what greater street cred could anyone hope for than . . . from the freeway?
For some strange reason, semi-truck trailers in the E.U. get wrapped with giant tarps, which do double duty as moving billboards. This means that the Freitag brothers have a plentiful supply of cheap, road-tested materials to use in their rather expensive bags, and that each bag has different colors and markings.
With its Mancipation line, the Freitag marketing machine goes all out — referencing Hefner, for example, a bit too often. The bags are
for gentlemen only. Why? Because we just know you ladies would be all over them, and then men wouldn't have the courage to get one. Yes, we are sensitive that way.
Worse still is their "Mancipation Proclamation":
. . . We stand up for the right of man to aesthetic recognition. We do this with bags made to relieve back pockets from bulk and promote our gender's most important point of attraction. . . .
The bag as a historical accessory to the hunter and a sign of male mobility shall be reclaimed from the female domain. The free-swinging men's bag is our symbol of modern mancipation and a sign of hope for all oppressed men in today's society. . . .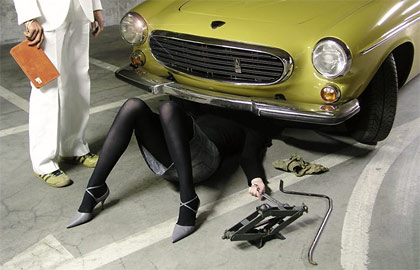 Eat your heart out, Kenneth Cole. But you don't have to buy the misappropriated or pseudo-political language to appreciate the Mancipation semi-clutches, whose insides are crafted from recycled automobile airbag liners. Yes, that's right. Once an airbag is deployed, there's no stuffing it back into that steering wheel. Which means each one of these has a car accident to its credit, too.
Did we mention the seatbelts?
Freitag Mancipation: Willy, Fritz, and Horst [Freitag]