Here's our quick, uninformed take on the glamorous, fast-paced world of man-purse-accessory design:
High pressure
High fashion
High speed
Highly specific
Hi, Mom!
Sorry, we're still new at this. But it seems to us that most accessories that make it easier to use your gizmo, and that you therefore carry in your "tote" with it, succeed or fail by how brilliantly they encapsulate and cure a particular strain of gizmitis. That gizmitis, of course, is what caused you to comb the web in the first place, looking insistently for the exact somethingorother that you had never imagined needing or wanting . . . until the time you bought the gizmo and realized you have a new problem you need solved.
Are we being clear?
Sometimes it is difficult to speak generally about specific things. Take the iPod and iPod-alike cord-slack-reducing whatsits we described here yesterday. Did you ever imagine needing such a thing? And yet you could really use something to help you with that dangling problem, couldn't you? And sure, you could use something generic, like one of those throw-away plastic-y twist-tie thingies that came with the original packaging, but soon (maybe after you lose it, then sheepishly replace it with an inferior paper one you've brought home from the grocery) you decide that that's just not good enough. You need an industrial-design-strength solution to your earbud-slack entanglements.
Well, cord drape and tangle happen to be particularly widespread problems these days, so you have a wide range of choices. Should you get the ballistic-nylon muffin or the clear spool-of-thread-on-a-clip? Which works best? The general favorite, the rodent-biscuit-shaped Smartwrap, seems to solve your problems, but it isn't good for much else. If in a few years, say, earbuds go wireless, your little mouse chew-toy is out of a job.
Which probably isn't a big deal, since you only paid five bucks for it. But certainly there are larger man-purse accessories that you'd pay more for: like a mini bag with lots of zippered and flapped pockets and loops on it (each specially estimated to fit perfectly some thingy you own), which you can throw into your shoulder bag so that your whosies will stay organized and not flop around unnecessarily. Here there's less specificity, but when a manufacturer guesses accurately the size of your loose items, you really appreciate it. It's a good organizer-pouch thing because it fits your stuff.
But we all have different stuff, and as specific and just-right-for-the-purpose as all these organizers for odd items may seem, they're really just the results of guesswork. And we're guessing that's why it's a good thing there are so many man-bag and man-bag-insert makers out there. One of them, somewhere, has got to have a case full of slots and pouches that'll fit your stuff perfectly.
Are you following our logic here? Good, because the particular man-purse accessory we're introducing today for Man Purse Accessory Week takes an entirely different approach.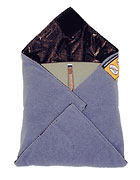 Today's accessory is called the RoadWired R.A.P.S. Advanced Protection System Wrap, though we like to refer to it as the Overpriced Hanky. It's just a thick, souped-up cloth, really, which you can use to wrap objects of any old size before you toss them into your manly field bag.
The "Advanced Protection System" refers to a multilayer sandwich of cuddly materials meant to swathe your little indeterminately shaped gizmo, cushion it from scratches and jostling, allow it to breathe, and — somehow — protect its delicate metal parts from corrosion and "environmental gasses." Velcro tabs at the corners make it self-sealing.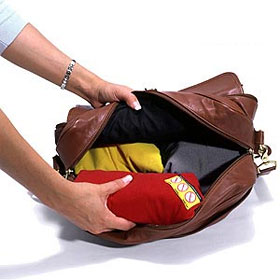 The R.A.P.S. wraps come in four different colors (so you can distinguish the resulting amorphous bundles), in three sizes, and range from $12.95 to $17.95. That might seem like a good price for something that fits so many different things just right.
Look, Ma! (And hello again.) No man-purse dividers!