Over at Digg, user detour99 points to a page of Oakley computer cases and labels it "If Jack Bauer made laptop bags . . ." He adds:
These rock-hard laptop bags from Oakley would appear more at home dropped into a war-zone rather than carried on the bus. They do however score a high amount of both 'geek' and 'cool' points. Just the thing to put your laptop in when you turn up for the next "Battlefield 2″ LAN party.
His link gets 25 "diggs" from other users. A few add comments, such as
I give diggs to anything with Jack Bauer in the title . . . [colemanm]
and
I have 2 different Oakley Laptop bags(the original, and the SI computer bag), i love them and they are as tough as they look, and you can't beat Oakley's warranty policy. [Mesach]
We applaud the enthusiasm of all these handbag and 24 fans. However, we cannot help but note a somewhat critical distinction between the Oakley bags detour99 and friends are fawning over and the bag tastes of their role model and supposed laptop-bag designer, the fictional sorta-superhero Jack Bauer.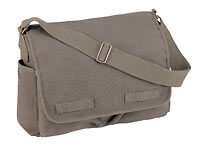 Let's review. Here, as we've mentioned before, is the shoulder bag Jack Bauer carries in 24. You will note it is a simple canvas bag with unremarkable markings. It is very similar to a bag described and sold by many vendors as a "Danish School Bag."
Detour99, on the other hand, points to a page of Oakley bags, but let's focus on just one of them, since it appears to epitomize the qualities he (we presume he's a he) admires in the line. It's the Oakley Kitchen Sink Pack pictured here, and it looks pretty burly. As Oakley describes it:
Each Oakley pack has its own premium features. If you can't choose between them, get them all in a single pack that offers every conceivable innovation. From the mobile phone pocket to the padded sleeve that holds widescreen laptops up to 17", the Kitchen Sink Pack gives you everything you need to haul your gear. The top storage compartment is fleece lined and compression molded, perfect for protecting eyewear — or use it for a media player and take advantage of the headphone port. Cable zipper pulls let you add a lock to secure the main compartment. The mid-body access flap includes an inner organizer, and a compartment at the bottom has drainage ports for wet or soiled items. You also get plenty of pockets, attachment points and tie downs.
The Kitchen Sink Pack sells for $175 and appears to bristle with threatening metal, in the form of clips and anchor handles, the purposes of which are not so clear, though perhaps they could be used for some form of backward rock climbing. We can't help but imagine that carrying a bag clearly dotted with attachment points might become somewhat counterproductive in the event that the wearer, in full pseudo-counter-terrorism mode, attempts to escape some attackers, say, who might carry hooks.
So let's contrast. The Jack Pack was pioneered by schoolchildren in Denmark, is made of soft canvas, and has no internal padding or exterior markings save a zipper and two flaps. Yet somehow, in his imagined nascent career as purveyor of laptop backpacks, Jack Bauer is going to decide that bags should be festooned with buckles and gizmos and padded to coddle expensive sunglasses?
We don't think so.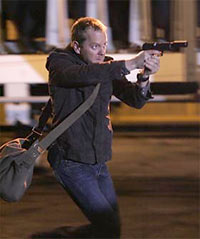 Let's get this straight: Jack Bauer's bag is simple and inexpensive. He carries everything but the kitchen sink inside it. While it looks like he might have only a sweaty towel and some jogging shorts in there, he regularly pulls out of it some rather strategic weaponry and devices. Dramatic tension arises from that simple contrast. The Kitchen Sink Bag, on the other hand — and other "tough" looking bags like it from Oakley and many other manufacturers — look like they might be weapons themselves . . . or at least cases for them. What's inside could only be a letdown. A lot of imagined "protection" for your cute little iPod, no?
We like the comment on detour99's post from user epluribusunum:
Jack Bauer does not carry a "laptop bag," he carries a "man-purse."