The Microsoft Origami clutch featured in the leaked video we commented on yesterday reminded us of another half-purse, half-computer concoction we heard New York Times technology writer David Pogue discuss recently. It's called the HardCover Case, and it's a notebook designed to fit around a notebook computer:
It looks for all the world like a leather binder or portfolio, but instead of papers and pads inside, it holds the laptop. You open the portfolio and the laptop lid simultaneously. (Four small round Velcro tabs hold the cover onto the bottom of the laptop, and also make it easy to remove.)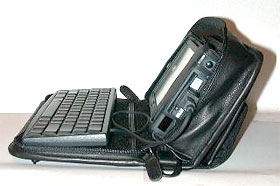 In the Origami Project video, the keyboard was integrated somehow into one flap of the clutch. (This reminds us of some cases for the old Apple Newton, as shown in this photo.)
The HardCover Case seems a step in a slightly different direction, though mostly because the laptop hinge coincides with the cover's binding.
Yes, we visited the manufacturer's website. And yes, it tries hard to crash our Windows PC whenever we click on the "Demo" link.
Maybe they just wanted to be sure we realized that the HardCover Case is designed expressly for Apple MacBook Pros, iBooks, and PowerBooks. ("However, one may fit your laptop PC, too.")