Earlier this week we faulted Jackson Citizen Patriot writer Justin Schneider for being a man-purse-denial enabler. Because one of the subjects of his story didn't want to be told he was wearing a man purse, it seemed, the writer crafted the entire article around that self-deception. He wrote a feature article about man purses, we said,
that very quickly denies that the bags it describes are indeed man purses.
Were we too rough on him? Most of the article is a shopping guide for man bags — but we paid no attention to Mr. Schneider's fashion finds. Unfortunately, the online version of the story contained no photographs, which of course made our usual snap judgments difficult. So today we thought we'd remedy that situation by spending some time attempting to reconstruct exactly which supposed non-purses for men Mr. Schneider describes in his article.
First on the list is the leather "tote" worn by Jackson, Michigan, resident Michael Gough. Mr. Gough does not want his tote called a purse.
Gough found his leather tote at a Polo outlet store and said he paid about $120. He said it's perfect for his planner, phone and various documents he uses as a Realtor.

"It has a handle, so you can wear it over your shoulder or just carry it," he said. "I use it for work, but if I take a trip it also works for a carry-on bag."
Alas, we could find no equivalent Polo outlet store on the web, and doubted we would find the exact same item at our local outlet mall. We did, however, find two Ralph Lauren Polo items which might somehow be morphed to an approximation of Mr. Gough's perfect pack: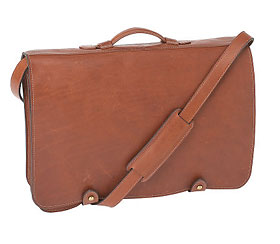 The Polo Ralph Lauren Italian Leather Briefcase, in chestnut with contrasting stitching, is "designed to look better with age." Its main compartment is divided into three sections. Two pouches hide under the front flap, which attaches to the bag body with two tabs. There's a zippered compartment at the back. To us, this looks like a leather messenger bag, but it costs $650.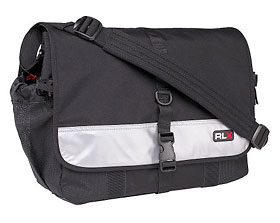 For the same money (and from the same company), you could buy eight canvas RLX Messenger Bags. These presumably look worse with age, but eight of them might last you longer than one briefcase. It has mesh pockets on the sides, closed by drawstrings, and a zip compartment in the front.
Wandering over to the Westwood Mall, Mr. Schneider identifies more men's bags that are not purses at Wilsons Leather:
Wilsons carries shoulder bags ranging from $80 to $200 in black, brown and cherry-colored leather as fashionable as anything on Wall Street, and much more convenient.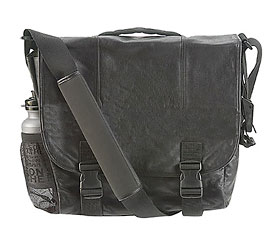 We're not quite sure what Wall Street inconvenience Mr. Schneider is referring to, but our brief visit to the Wilsons Leather web store turned up several choices for less money, such as their heavily discounted H20 Messenger Bag, which is short on both price and description.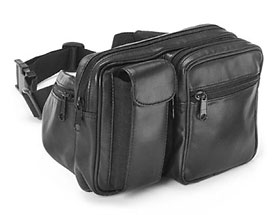 We must admit, however, that we were rather distracted by another item prominently featured on the Wilsons Leather website: Their Dual Pocket Beltbag. Is there some new market for reimagined through-the-beltloop fanny packs? Mr. Schneider obviously paid no attention to this item, of course, because his article wasn't about man purses.
Next: Man non-purses from the Gap and more.