Our retracing of Justin Schneider's non-pursey man-bag shopping expedition continues (you can read part one here):
The Buckle at Westwood Mall carries one bag, made by Bed Stu ($45), in brown canvas with the "distressed" look that has become popular of late. With a weathered look and frayed edges, the bag belongs in the hands of teens and twentysomethings. It features several discreet pockets with a mountaineering ring and bottle opener concealed under the top flap.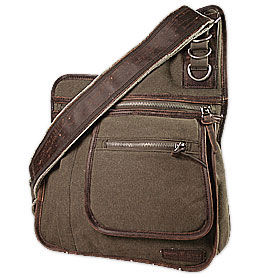 Could he be describing this bag from the Buckle website? It's the Bed Stu Sling Bag, a canvas bag with a "vintage appearance." We like it, but we don't see much distress. There are three zippered pockets, one of them vertical and concealed by a thin flap. It's $44.95.
Directly from the Bedford Stu website, we found a bag for $49 called the Oryx in "brown abrasive" canvas that looks more distressed — although on second thought it could just be a bad photograph. We're not sure what a mountaineering ring is, unless it's one of those rings at the top of the sling above.
On to the Gap, which Schneider says
introduced a new canvas messenger bag with its spring men's line. Available in blue, green, black and tan, the 100 percent cotton model retails for $24.50.
We don't see it online, and don't imagine he was referring to this Premium Canvas Duffle Bag, available in island palm (aka the almost frightening green shown here) and cargo khaki. It's listed as an accessory in both the men's and women's departments.
But two black bags Schneider goes on to mention are available online — at 40 percent off the $68 price he saw:
One is constructed with a durable nylon shell and nylon lining. But the bolder option is the cotton-shelled, nylon-lined model that sports flashy silver zippers and a subtle stripe pattern.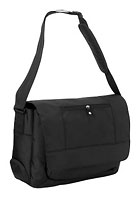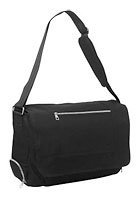 Both the nylon and the herringbone canvas commuter bag include an outside zipper compartment, zipped pockets on the side, a separate drawstring bag for smelly gym shoes, a laptop pocket, a separate zipper case, an MP3-player compartment with a slot for earphone wires, compartments for a cell phone and PDA, and a bottom zipper compartment the Gap brags you can keep a wet umbrella in. We'd like to know if there's also a pocket where we can hide a small dog.
Next: Our "Shopping with Schneider" saga continues . . . at JCPenney!