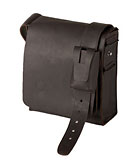 Today we have one more seemingly futile attempt to capture the ineffable qualities of the man purse toted by the new surgically and sartorially enhanced Ken doll. Barbie's ex is back, and he's wielding a . . . purse. But which one?
Might it be the Anders Tote, by Medium? There's a good chance stylist Phillip Bloch at least had this leather bag in mind when he created Ken's vertical man bag. The front flap is long, and fits flush against the body of the bag with the help of two magnets stitched inside. (Medium is quick to interject that the steel bar the magnets link to is separated by several layers of leather from the space where your laptop might go.) It's sturdy and rugged, with space for a few items next to your laptop and a couple of pockets on the front, once you lift up the flap.
On the strap, there's a removable holster for a cell phone or iPod — obviously, Ken didn't use it. And somehow he ended up with a bag that's black; Medium's Anders Tote comes only in a dark brown.