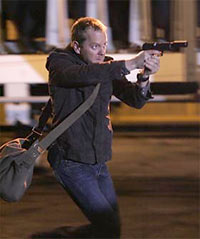 Looking for the canvas messenger bag carried by Jack Bauer, Kiefer Sutherland's character on TV's longest-running week-long show, 24?
According to our visitor logs, so are a lot of other people. We don't get it. What, exactly, is the virtue of carrying a man purse identical to that of a fictional, independent, go-it-alone secret agent? So you can look like an original?
But we're sympathetic. Even if they're not counter-terrorist agents, bag-wielding men can use some cover. That's not a man purse, you can say. That's my Jack Pack. Or Jack Sack. And so the conversation switches from effeminacy to television; from lipstick to explosives. Phew.
And we're happy to help you out.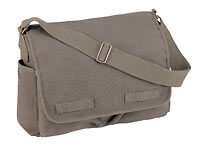 Though we doubt we'll ever have official confirmation, Rothco's Classic Messenger Bag appears to be Bauer's bag. You can't buy directly from Rothco, but you will find bags that meet the exact same description (and use the same photograph) for sale at Amazon (through Andrew Christian), Flying Tigers, and New York First. They all seem to be the same bag.
Bauer or no, at about twenty bucks it's a pretty good bargain.